Back from an extra day in reality...hope everyone else enjoyed Thursday as much as I did. On Wednesday I passed by someone who was coughing in the cafe. This morning I asked myself, "Should I stay home and not expose the nice older couple who run the cafe to these germs?" and answered myself, "Duh...they got the same germs from the same place I did." Anyway it's been hard to drag my brain back into cyberspace because a good half of my energy is going into Fighting The Flu. I plan to allow time to sweat out the fever, if one develops, over the weekend; so far it's just the usual bleary-eyed feeling, nothing to lose time over. Today's Categories: Animals, Fashion, Food, North Carolina, Politics, Tennessee, and here it is time to go home and I still have twenty-three posts I wanted to read, if my eyes had been a little more efficient...
Animals
It's a cat day...gray tabby cats, the commonest kind, in honor of a book recommended by Mudpie's Human...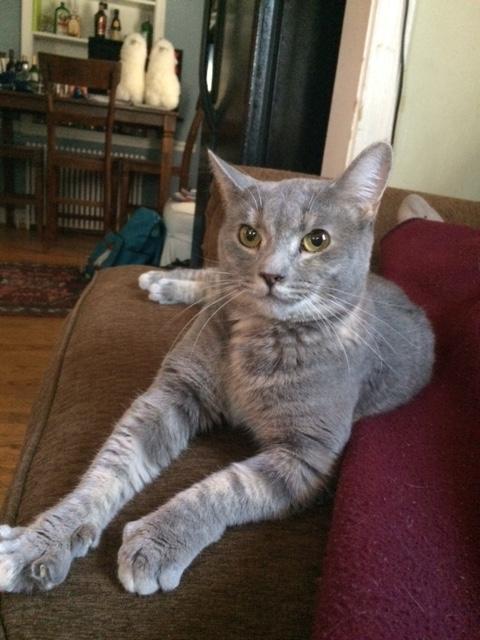 Pebbles from Arlington is an older cat with some special needs, but as we know polydactyls are special cats...right, Heather? https://www.petfinder.com/petdetail/34456410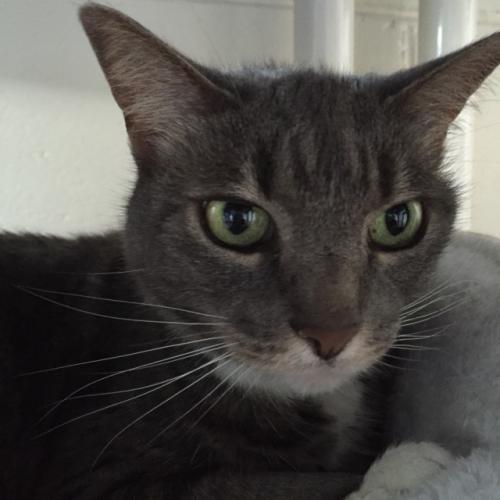 Sokha from Atlanta, also an older cat, may need extra love but no special medical care: https://www.petfinder.com/petdetail/35288919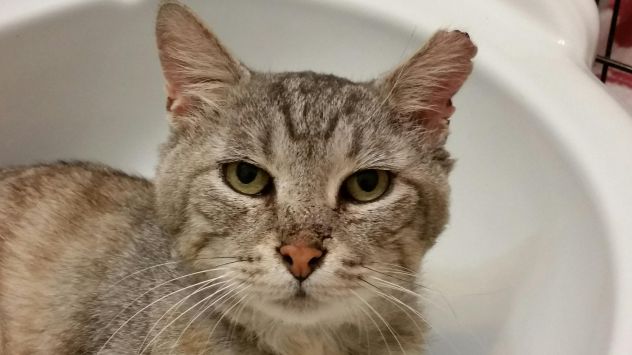 Zachary from New York is an old cat and needs a proper home. https://www.petfinder.com/petdetail/36092172
I've not read the book, but I want to:
And here's a bonus cat picture...I finally got my home computer back into working order, after most of a year without electricity in the office room. Last night, during the first really bitter chills of the season, Heather came into this once again warm room with me. (This morning somebody really raised my blood pressure by blathering about a man "freezing" with his thermostat turned down to 50 degrees Fahrenheit. I set the electric heater at the point where the room temperature reaches 40 degrees; when candles and the computer bumped it up to 50 degrees, I was pleased.) Heather didn't seem to have missed the computer. I'd try to type on it and she'd grab my fingers, nonverbally saying "You're supposed to be holding the bodywarmth inside my coat!" The cell phone doesn't take pictures of a dark-colored cat indoors, so here's an e-friend's picture of a bright orange cat whose attention-grabbing gestures are more expansive, less explicit than Heather's.
http://thevagabondtabby.tumblr.com/post/154532810417/i-was-trying-to-sew-i-didnt-manage-to-sew
Fashion
Why I'm not interested in "updating my look": Fashion happened to work with my body shape in the 1990s. That's the kind of clothes I enjoy wearing, and the kind I jollywell intend to wear. If I have to buy my own durable cotton fabric, cut it to the shapes of the clothes I've enjoyed wearing, and sew it together myself...I won't enjoy taking that much time away from writing and knitting, but I've done it before and I'll do it again before I'll wear these "fashions."
http://www.cracked.com/blog/the-7-most-baffling-things-about-womens-clothes/
Food
Earlier today, at another site, the idea of enjoying holiday treats by the cubic centimeter came up. Here's a treat, not gluten-free, to eat by cubic centimeters if you're diabetic, sugar-sensitive, overweight, trying to reduce fat, trying to reduce carbs...but apple, ginger, and 7-Up (or ginger ale) would
work
together, yes.
https://foodwithaplan.wordpress.com/2016/12/15/apple-ginger-crescent-casserole/
Pecan pie is not traditionally gluten-free, but it can be. If you want to be totally decadent, just butter the pie pan generously, then completely cover the butter with ground pecans, then pour in the filling, and...serve it in between sessions of
heavy
labor to work off all those calories. Nuts are one of the healthier sources of fat anyway.
https://niume.com/post/196560
North Carolina
It's only the timing of these measures that has the Democrats' knickers knotted...This web site recently called for some North Carolina Republicans to play by the rules, so today we'll call for the Democrats to do the same thing. We have no side. We have relatives in North Carolina, but not really close ones.
http://www.huffingtonpost.com/entry/north-carolina-republicans-roy-cooper_us_5854189fe4b0b3ddfd8c3bde?
Politics (And Knitting)
Word-nerd supreme Jonah Goldberg tossed out the word "plutocrat" in this morning's e-mail. If you really want to meet the people who'll be coming to Washington this winter you can find the article at the National Review web site, but I'll content myself with this thought: "Plutocrat" is another word that, if it hadn't already existed, might have been coined
just
to describe President-elect Trump. Along with "jerk" and "Yankee-ish."
I've added one Official Anti-Trump Hat to the supply of merchandise I carry around. You can knit your own--it really is a Brownie-level knitting pattern--or you can support this web site by ordering one here ($10 plus $5 for shipping).
https://www.pussyhatproject.com/
Politics (Generally)
Scott Adams' thoughts on ISIS. I neither agree nor disagree; I'm sharing this link because it's different from the usual rhetoric about ISIS in a country where, if there's ever been a good reason to hate fellow humans, most of us do have that kind of reason to hate ISIS. I don't sit around hating anybody, but if I probe myself, if I picture ISIS goons on fire and a bucket of water and a bucket of kerosene, I can picture myself picking up the kerosene. So I think it's possible that SA's thoughts may be a tiny bit more useful.
http://blog.dilbert.com/post/154553282956/persuasion-and-isis
Norb Leahy is sooo right about public-private partnerships. I've seen them work--Washington's Metrorail worked like a dream in the 1980s--but more often they flounder in a mess of unclear regulations and lack of accountability, the way even Metrorail seems to be doing now. Outfits like Mountain Empire Older Citizens do some of the good they brag about doing, and a lot of, well, not-so-good, and some very bad things. The position of this web site is that businesses should be public or private, not both.
http://ntlconsulting.blogspot.com/2016/12/beware-private-partners.html
Tennessee Update
Dolly Parton has never looked better...readers of a certain age, who remember her gimmick of getting a little-girl voice out of that full-grown figure, must agree:
http://www.theblaze.com/news/2016/12/15/dolly-parton-raises-9-million-for-victims-of-gatlinburg-fires/
www.dollywoodfoundation.org